A Real Estate Agent that Knows Goshen Valley…
---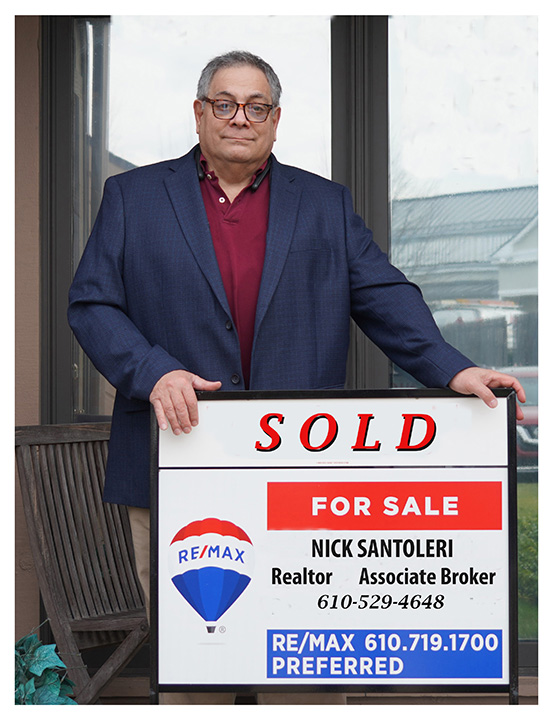 As a life long resident of Delaware and Chester Counties, Nick is very knowledgeable of East Goshen. A few years ago Nick lived in a Goshen Valley Condo for 5 years and experienced the many attributes of the community. He believes that planned communities are an excellent choice for many families and has the expertise to help you with your Goshen Valley Condominium needs.
---
About Nick Santoleri
If the most important quality in a prospective home is good bones, then the most important quality in a realtor is the ability to see them. Nick Santoleri understands every facet of both commercial and residential building. Nick's background in stone masonry and construction led to real estate investing, property management and ultimately, commercial and residential real estate sales. Over the course of his thirty five-year career, Nick pursued his continuing education with an emphasis on real estate law and earned his real estate brokers licence while still in his twenties. This, combined with his innate and consummate knowledge of art and design, uniquely qualifies Nick to help potential buyers locate the perfect dwelling, from ground breaking to ribbon cutting. As a Chester County native and longtime Delaware County resident, Nick is intimately familiar with the Delchester area, closing over one hundred transactions over the course of his career. A grandfather of ten, with one more on the way, Nick Santoleri knows better than anyone that his clients are not just buying a home— they're buying a school district. They're buying a community. They're making the single greatest purchase of their lives— the kind of investment that requires a seasoned agent to lead them— an agent like Nick Santoleri.
Simply Register for Your
Nicholas "Nick" Santoleri | Realtor ~ Associate Broker
Cell: 610.529.4648 (feel free to call or text)
RE/MAX Preferred Realtors
1595 Paoli Pike Ste #101, West Chester, PA 19380  610.719.1700